Posted on 5/22/2018 7:10:00 PM.
Early voting totals with 34 of 34 locations reporting:
Guadalupe County District Clerk
Guadalupe County Comm. Pct. 2
Guadalupe County Comm. Pct. 4
Justice of the Peace Pct. 3
---
Posted on 5/22/2018 7:35:00 AM.
(Seguin) -- Owners, employees and even customers at Soechting Motors gathered Monday morning to remember the lives lost during Friday's shooting at Santa Fe High School near Houston. The dealership, located at 603 E. Kingsbury St, gathered to observe a moment of silence and prayer as requested by Texas Governor Greg Abbott. The governor issued the statewide call for Texans to take part in the moment of silence at 10 a.m. Monday.
Soechting Motors
---
Posted on 5/22/2018 7:33:00 AM.
(Seguin) -- It's election day. Voters are reminded to cast their ballots in today's Joint Republican and Democratic Primary Run-off Election. Guadalupe County Elections Administrator Lisa Adam reminds voters that if returning to the polls, individuals will have to select the same ballot as they did during the March 6 Primary.
More
---
Posted on 5/22/2018 7:20:00 AM.
(Seguin) -- There will be no reconsiderations when it comes to the status of the principal at Weinert Elementary School. The Seguin ISD Monday afternoon released a statement regarding an open hearing involving the non-renewal contract for Weinert Elementary School Principal Brandi Bell-Wiatrek. The statement reads, "this afternoon, Seguin ISD received a letter of resignation from the principal of Weinert Elementary School. The resignation is effective June 30. As a result, the special board meeting scheduled for May 21, 6:30 p.m., is cancelled."
More
Seguin ISD
---
Next Entry
Posted on 5/22/2018 7:41:00 AM.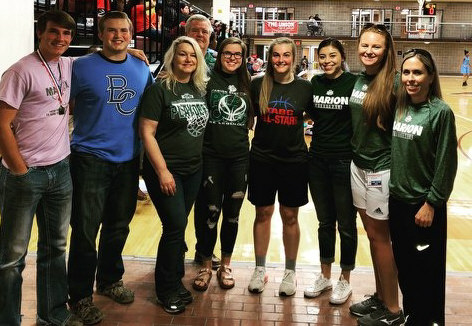 (San Antonio) – Marion High School senior Madelyn Abrameit (sixth from left) is pictured with coaches, friends, and family members at Trinity University on Saturday after scoring eight points and grabbing five rebounds to help her team win the TABC Girls All-Star Game 85-79. Abrameit was an All-State and All-Region selection, and claimed District 27-3A Most Valuable Players honors as Marion's point guard under veteran coach Kollyn McWhinney (far right) this past season.
---
Posted on 5/22/2018 7:38:00 AM.
The Tigers of Seguin Little League's Majors Baseball division celebrate their city championship win over the Yankees on the field after Saturday's tournament final.
(Seguin) – The Tigers edged the Yankees 4-3 Saturday evening at Starcke Park to claim the 2018 Seguin Little League Majors Baseball championship.
---
Posted on 5/22/2018 6:45:00 AM.
---
Posted on 5/21/2018 6:46:00 AM.
Sunday
No. 6 TLU baseball def. Willamette 6-5 (10 innings), wins NCAA DIII Spokane, Wash. Regional championship
Saturday
No. 6 TLU baseball def. UT-Dallas 2-1, def. Willamette 6-1, NCAA DIII Spokane, Wash. Regional
Tigers def. Yankees 4-3, Seguin Little League Majors Baseball championship game
---
Previous Entry
Next Entry