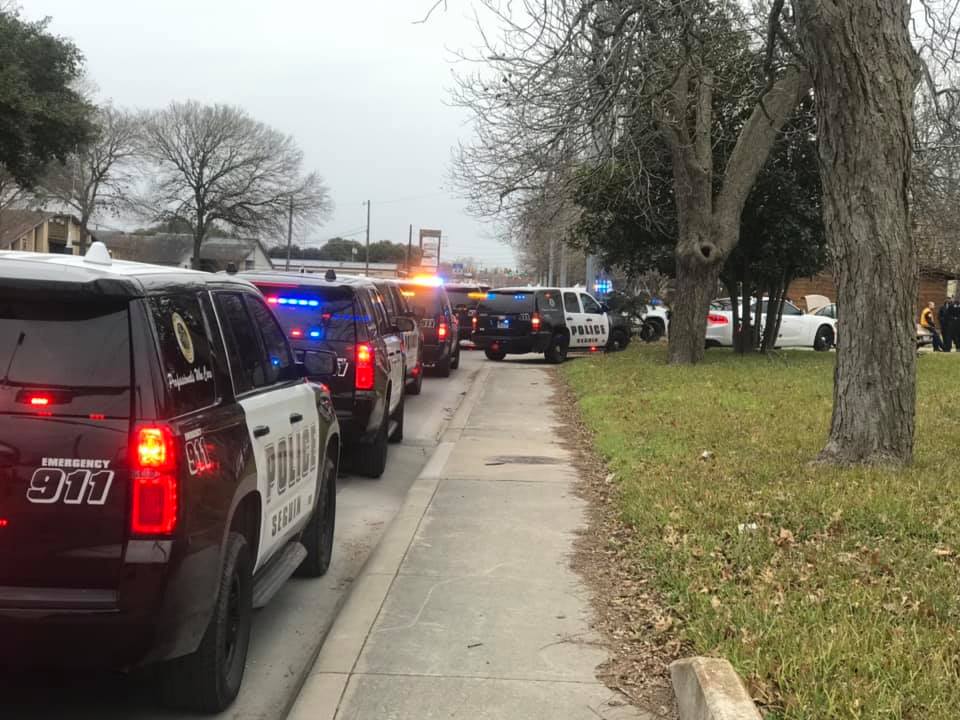 Law enforcement officials from the Seguin PD and the Precinct 2 Constable's Office on the scene of the stop made near the intersection of King and College streets this morning.
(Seguin) - There may have been a time when you could bring your hunting rifle to school and leave in in the gun rack of your pickup. Those days, given the growing list of school shootings, are long gone.
The Seguin Police Department this morning arrested a student after receiving a call of a student in a campus parking lot with a rifle inside the vehicle. The student left the campus before police could arrive, but he was stopped by the Guadalupe County Precinct 2 Constable's Office, not far from the Mercer-Blumberg Learning Center. Seguin police officers took over the seen and found a total of two guns, and the student was taken into custody. The student has been identified as 18-year old Douglas Cowey, and it's not clear that there was any intent to cause harm at the school, but officials say the times have changed and these weapons are no longer allowed on any campus.


Here's the press release issued by the Seguin ISD earlier today:
This morning it was reported to administration that a Mercer-Blumberg Learning Center (MBLC) student was in possession of a rifle in his vehicle parked in the MBLC lot. Seguin Police Department was immediately notified. The student was pulled over (by the Precinct 2 Constables Office) on College St., having left MBLC to presumably take the rifle home. Seguin Police found a second weapon in the trunk of the vehicle.
The student was arrested for possession of weapons in a prohibited place. Seguin ISD administration and the Seguin Police Department are collaborating as the investigation continues.
The safety of our students and staff is our primary focus and responsibility. At this point, we believe that our MBLC students and staff are safe. We applaud the student who reported this as well as the quick response from the Seguin Police Department.
We encourage our Seguin ISD families, students and staff to report any potential safety issues to a teacher, administrator or law enforcement officer. Please remember that if you see something, say something.