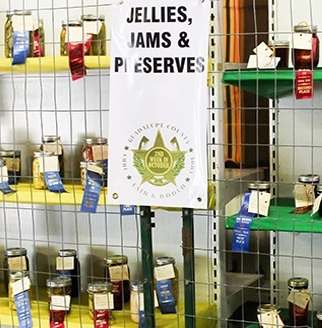 (Seguin) -- Here's how you can take home that blue ribbon from this year's Guadalupe County Fair and PRCA Rodeo. Today is arrival day for all home arts division entries.


Jenny Siltmann, a longtime member of the fair committee, says there is no limit in the amount of items that will be accepted. In fact, she says a cash reward is again be offered to the participants with the most entries.

"On Wednesday is when we take in the entries for the home arts and we want to emphasize that they can bring them between 2 and 8 o'clock but again, we are doing this contest for the two people who bring us the most entries, they are going to win a $50 cash prize this year. But, the click to that is when you enter your item, you need to say that you are participating in that contest. Otherwise, we won't have you signed in for that," said Siltmann.

Siltmann says the homes arts division is not only an important but a historical component for the annual fair. She says over the years, the contest has helped to showcase the true individual talents of those who live, work and play in Guadalupe County.

"Thursday morning, we do the judging and that's when we find out just what the judges think of your things and you know, judging is always a personal opinion. What I might like, the judge may not like or the other judge but it's all in the contest. It's all in fun and that's how this started off a long time ago with the farmers competing with each other. So here we are. Let's do home arts," said Siltmann.

The home arts division includes contests such as scrapbooking, handwork, crafts, clothing, pickles and relish, jellies, jams, preserves plus much much more.

All entries will be accepted today between 2 and 8 p.m. Entries should be dropped off at the Exhibition Hall at the Guadalupe County Fairgrounds. Cut flowers and arrangements must be turned in by 9 a.m. Thursday. After judging, all entries will remain on display through the end of the fair.

Items must be picked up on Sunday from 4 to 6 p.m.



Rules for each individual category are available in this year's Guadalupe County Fair Catalog. They are also available online at www.gcfair.org. The Guadalupe County Fair and PRCA begins Thursday and runs through Sunday.

Free rodeo tickets are also still available for Thursday night's opening PRCA event. Thursday night is KWED Listener Appreciation Night at the rodeo. Free rodeo tickets can be picked up now at Texas Built Homes, located on the I-10 access road at FM 775 (New Berlin exit).