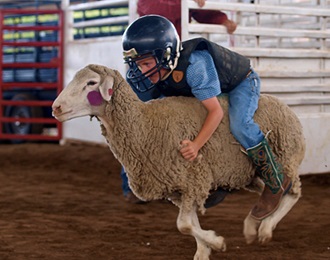 (Seguin) -- The annual Guadalupe County Fair and PRCA Rodeo will be getting a head start this weekend with a few pre-fair events. An IBCA State Championship Barbecue Cook-off, mutton bustin,' county roping and the start of the Miss and Little Miss Roundup contest are again on the schedule this weekend at the Guadalupe County Fairgrounds.


Sarah Louque, committee chairman for the cook-off, says the pre-fair events help set the stage for next week's events.

She says the entries for the 15th annual cook-off are still being encouraged.

"We take cookers all the way up until the day of the event. In fact, some cookers can even come in Saturday. I mean, as long as they meet up with the head judge who is Don Mason and get their trays to cook and can turn everything in by turn in time. They can still qualify to cook. They can cook brisket, pork spare ribs, chicken, jack pot beans, cook choice meat and cook choice dessert," said Louque.

Books for kids wishing to participate in Mutton Bustin' will also open at 6 p.m. Saturday at the rodeo arena. Books close at 6:45 p.m. with the competition starting at 7 p.m. Contestants are required to provide a copy of their birth certificate during check-in. Cost is $25 per rider. Kids must be 4 to 7 years-old and weigh 65 pounds or less to participate.

Team roping contests are also set for Saturday at the fairgrounds. Chairwoman Mary Jahns says books open at 7:30 a.m. They close at 8:45 a.m. with roping to begin at 9:30 a.m.

"It is an event that they come, they sign up that morning. We start the roping. They are eligible to win money on that day and then, we take the top 15 back to the rodeo. We have five teams Thursday night, five teams Friday night and five teams Saturday night and they get to rope at the PRCA Rodeo," said Jahns.

Another pre-fair event planned for this weekend is the Miss and Little Miss Round-Up Horsemanship competition at 3 p.m. Sunday in the arena. The competition will continue at 7 p.m. Monday with this year's personality contest in the Seguin-Guadalupe County Coliseum.

The official schedule for the Guadalupe County Fair and PRCA Rodeo runs from Oct. 11-14. Fair events, contest information and some online registration can be found at gcfair.org.

Those interested in the cook-off are also encouraged to email Louque at g.c.f.a@sbcglobal.net or call 830-477-9062.