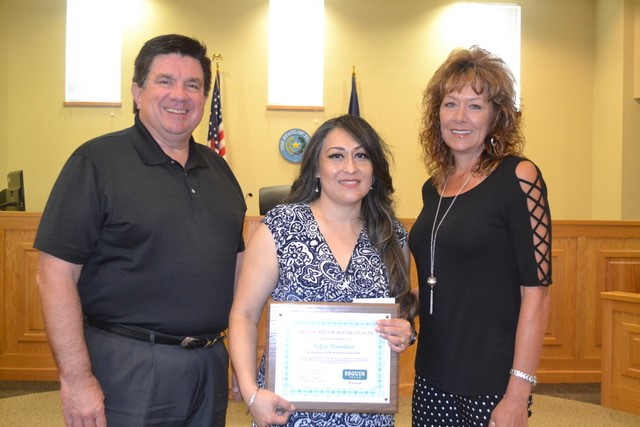 (Seguin) -- A city of Seguin employee apparently has a knack for working with unhappy Municipal Court customers. Getting a speeding ticket is not necessarily the thing that brings in happy people to begin with but for Sofia Penalver, city officials say she "somehow turns a difficult situation "that could involve traffic citations and/or court hearings into a positive review."




Not only are customers walking out happy and satisfied but they are leaving behind optional guest surveys -- surveys that are 100 percent positive.

According to city officials, optional guest surveys are placed at each clerk's window. In Penalver's three years with Municipal Court, they say she has received more surveys returned than all the other clerks combined. The remarkable thing, again, they say is that not one of them have been negative.
Penalver says she just delivers the kind of service that anyone of us would like in return.

"My job mainly consists of providing customer service and explaining the options people have so they can make an informed decision on how they want to address their tickets," said Penalver, "I usually encounter situations where the people sometimes have trouble understanding the court system or need to translate the options in Spanish. When people are upset about a ticket, I listen and validate their concerns. I explain the opportunity for them to contest the ticket without any extra fee and the options we have at the window are still available with our city attorney. Most of the time the people just want someone to listen to their concerns."

Municipal Court Administrator Landra Solansky praises Penalver's attitude and says she sets a great example for the entire team.

Solansky says she is especially excited that her clerk is being recognized for her excellent customer service.

"Her customer skills are extradorinary. Her patience with people and willingness to answer all of their questions ensures everyone she assists has equal access to our justice system," said Solansky.

Penalver's professionalism and positive attitude while handling these tough cases has earned her the recognition of being Employee of the Month for June 2018.