Posted on 2/12/2018 8:54:00 AM.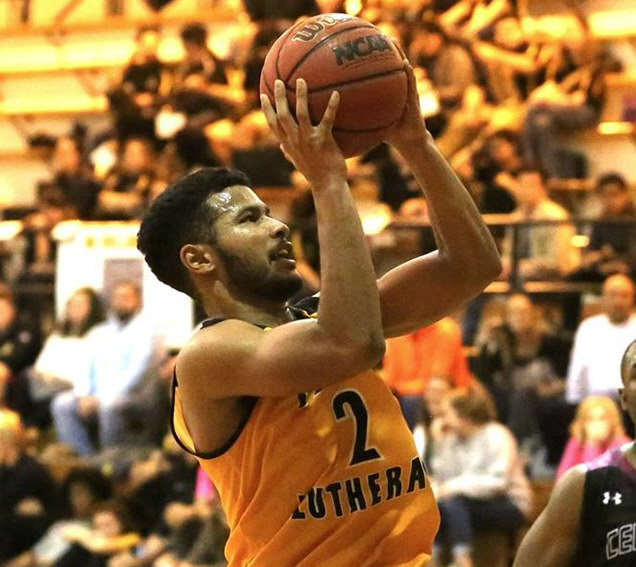 TLU point guard Nathan Joseph's banked in the game-winning runner just before time expired to lift the Bulldogs over Centenary 77-75 on Friday at Memorial Gym.
(Seguin) – The Texas Lutheran men's basketball team improved its chances of advancing to the upcoming Southern Collegiate Athletic Conference tournament with a pair of home wins last week, edging Centenary 77-75 on Nathan Joseph's buzzer beater Friday night and outlasting Austin College 84-74 on Saturday.
---
Posted on 2/12/2018 8:48:00 AM.
(Seguin) – The Texas Lutheran women's basketball team gave head coach Mel Dixon his 700th career win (high school and college combined) Friday night in a 61-45 thumping of Centenary, but capped the Southern Collegiate Athletic Conference home stand with a 66-36 loss to Austin College on Saturday at TLU's Memorial Gym.
---
Posted on 2/12/2018 8:45:00 AM.
Maitlyn Raycroft.
Raycroft tosses 9th no-hitter of TLU career as Bulldogs sweep opening doubleheader
(Seguin) – Texas Lutheran senior right-hander Maitlin Raycroft tossed her ninth no-hitter in 24 career starts with the Bulldogs to lead TLU to a doubleheader sweep of Huston-Tillotson Saturday afternoon.
---
Posted on 2/12/2018 6:14:00 AM.
Saturday
TLU men's basketball def. Austin College 84-74
TLU women's basketball lost to Austin College 63-33
TLU softball swept Huston-Tillotson 7-0, 5-0
TLU baseball def. Hendrix 9-3 & Le Tourneau 14-5 @ Rusty Greer-Jackie Moore Classic
---
Previous Entry
Next Entry