Posted on 1/11/2019 12:01:00 PM.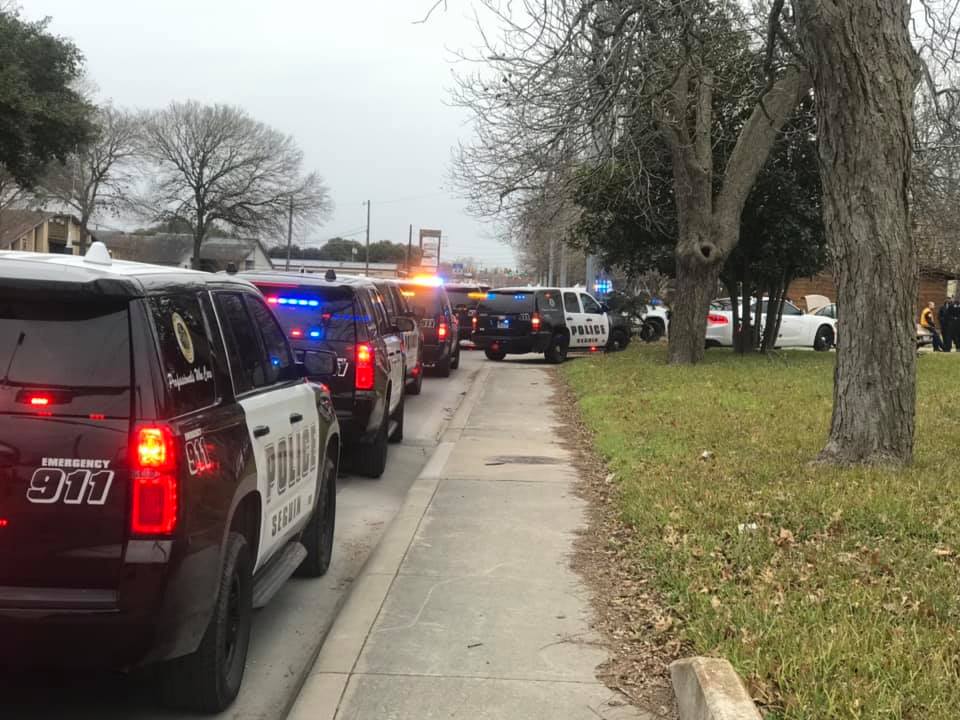 Law enforcement officials from the Seguin PD and the Precinct 2 Constable's Office on the scene of the stop made near the intersection of King and College streets this morning.
(Seguin) - There may have been a time when you could bring your hunting rifle to school and leave in in the gun rack of your pickup. Those days, given the growing list of school shootings, are long gone.
The Seguin Police Department this morning arrested a student after receiving a call of a student in a campus parking lot with a rifle inside the vehicle. The student left the campus before police could arrive, but he was stopped by the Guadalupe County Precinct 2 Constable's Office, not far from the Mercer-Blumberg Learning Center. Seguin police officers took over the seen and found a total of two guns, and the student was taken into custody. The student has been identified as 18-year old Douglas Cowey, and it's not clear that there was any intent to cause harm at the school, but officials say the times have changed and these weapons are no longer allowed on any campus.
More
Seguin Police Department, Guadalupe County Precinct 2 Constable; Seguin ISD
---
Posted on 1/11/2019 8:03:00 AM.
Dr. Stuart Dorsey and Russ Rinn marching into December's graduation ceremony at TLU. Photo by Tony Grandinetti
(Seguin) -- As the 2019 spring semester kicks off at Texas Lutheran University so do the plans of success and hope for all of its future students. Much of that security in the future comes after last month's special surprise for TLU President Stuart Dorsey and his wife Michelle. The couple during TLU's graduation ceremony was surprised with a $50,000 endowed scholarship established in their name. The other half of the surprise is that it was presented and made possible by TLU alumnus and Seguin native Russ Rinn.
More
Texas Lutheran University
---
Posted on 1/11/2019 8:01:00 AM.
(Seguin) -- Guadalupe County is no longer supporting a new roadway in Cibolo. Initial support for the Cibolo Parkway Project was granted to the City of Cibolo by the court in 2017. However on Tuesday, the Guadalupe County Commissioners Court unanimously approved a resolution to rescind the prior support and oppose the project.
More
Guadalupe County Commissioners Court
---
Posted on 1/11/2019 8:00:00 AM.
(Seguin) -- For more than two centuries, the manufacturing industry has adopted new technologies and provided new jobs for workers. Today, the industry is experiencing exciting and exponential change, as technologies are rapidly changing the workplace. While some predicted that these new technologies would eliminate jobs, data shows that more jobs are actually being created.
More
---
Previous Entry
Next Entry