Posted on 3/15/2017 6:28:00 AM.
Tuesday
Seguin softball def. Medina Valley 18-3
Seguin baseball lost to Dripping Springs 7-1
Marion softball lost to Hallettsville 9-1
Marion baseball lost to Yoakum 4-3 (8 innings)
---
Posted on 3/15/2017 6:27:00 AM.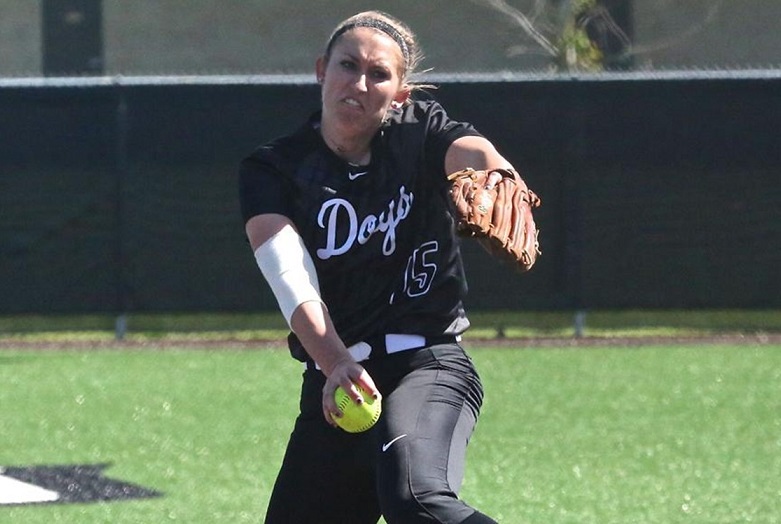 TLU senior Amanda Lochte pitched a one-hitter and struck out seven in Monday's series finale against Schreiner.
(Seguin) - Texas Lutheran junior right-hander Maitlin Raycroft tossed her third consecutive no-hitter, the 17th no-hitter in school history, as the Bulldogs swept a four-game conference series against Schreiner on Sunday and Monday to stretch their winning streak to ten games.
---
Posted on 3/15/2017 6:24:00 AM.
(Geronimo) - Navarro High School junior Mason McCaig was named the Boys Basketball Co-MVP of District 27-4A in a vote taken by the district's head coaches, fellow junior Will Eveld was chosen as the Defensive MVP, and five other Panthers landed spots on the All-District team.
---
Posted on 3/15/2017 6:24:00 AM.
TLU junior Cade Killingsworth struck out nine to earn the complete-game win in the first game of Sunday's doubleheader against Dallas.
(Irving) - Texas Lutheran junior right-handers Cade Killingsworth and Dylan Drgac each tossed complete games Sunday as the Bulldogs posted 3-1 and 11-0 victories over University of Dallas.
---
Previous Entry
Next Entry